4' Closed Picket K-17
A 4' closed picket vinyl fence provides a classic yet cordial addition for your yard.  The 3" gaps between this vinyl fence's pickets allows for visibility while maintaining a barrier for larger animals and dogs, and also preventing children from straying. 
Color Options
Tan
White
Sandstone
Khaki
Details
4" x 4" x 72" posts
4" x 4" x external caps
2" x 3 1/2" x 71-3/4" top and bottom rails
7/8" x 3" x 44 3/4" pickets
We are here to help! Contact us with any questions.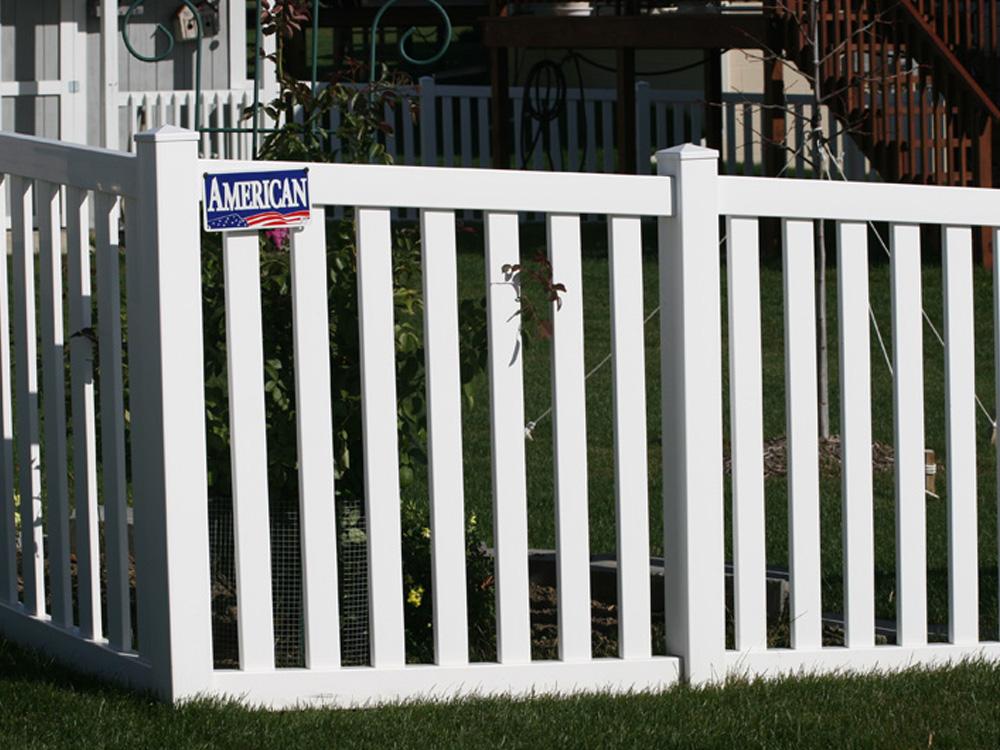 Select Colors
Click on color option »
Select Panels
| | Product | Unit Price | Attributes |
| --- | --- | --- | --- |
| | K-17 4' Tall x 6' Wide Closed Picket Fence with 3" Air Space - White | $70.37 | |
| | K-17 4' Tall x 6' Wide Closed Picket Fence with 3" Air Space - Tan | $80.60 | |
| | K-17 4' Tall x 6' Wide Closed Picket Fence with 3" Air Space - Khaki | $80.60 | |
| | K-17 4' Tall x 6' Wide Closed Picket Fence with 3" Air Space - Sandstone | $91.75 | |
Select Posts
| | Product | Unit Price | Attributes |
| --- | --- | --- | --- |
| | White Line Post 4" x 4" x 6' | $19.96 | |
| | White End Post 4" x 4" x 6' | $19.36 | |
| | White 3 Way Post 4" x 4" x 6' | $24.84 | |
| | White Corner Post 4" x 4" x 6' | $22.10 | |
| | White Blank Post 4" x 4" x 6' | $22.07 | |
| | Tan Line Post 4" x 4" x 6' | $21.25 | |
| | Tan End Post 4" x 4" x 6' | $17.80 | |
| | Tan 3 Way Post 4" x 4" x 6' | $23.55 | |
| | Tan Corner Post 4" x 4" x 6' | $21.25 | |
| | Tan Blank Post 4" x 4" x 6' | $22.36 | |
| | 4" X 4" X 6' Khaki Line Post | $33.64 | |
| | 4" X 4" X 6' Khaki End Post | $29.53 | |
| | 4" X 4" X 6' Khaki 3 Way Post | $37.75 | |
| | 4" X 4" X 6' Khaki Corner Post | $33.64 | |
| | 4" X 4" X 6' Khaki Blank Post | $26.00 | |
| | 4" X 4" X 72" Sandstone Line Post | $32.29 | |
| | 4" X 4" X 72" Sandstone End Post | $28.18 | |
| | 4" X 4" X 72" Sandstone 3 Way Post | $28.89 | |
| | 4" X 4" X 72" Sandstone Corner Post | $32.30 | |
Select Gates
| | Product | Unit Price | Attributes |
| --- | --- | --- | --- |
| | 4' X 4' White Single Swing Vinyl Gate | $1,322.50 | |
| | 8' x 4' White Double Drive Vinyl Gate | $2,526.58 | |
| | 4' x 4' Tan Single Swing Vinyl Gate | $1,228.50 | |
| | 8' x 4' Tan Double Drive Vinyl Gate | $2,455.08 | |
| | 4' x 4' Khaki Single Swing Vinyl Gate | $1,258.45 | |
| | 8' x 4' Khaki Double Drive Vinyl Gate | $2,643.13 | |
Select Caps
| | Product | Unit Price | Attributes |
| --- | --- | --- | --- |
| | White External Cap 4" | $0.80 | |
| | 4" White Gothic Cap | $4.99 | |
| | 4" White Classic Cap | $7.04 | |
| | White Ball Cap 4" | $4.15 | |
| | Tan External Cap 4" | $0.84 | |
| | Tan Gothic Cap 4" | $4.38 | |
| | Tan Classic Cap 4" | $2.79 | |
| | Khaki External Cap 4" | $1.34 | |
| | Khaki 4" Gothic Cap | $4.25 | |
| | Khaki Classic Cap 4" | $2.47 | |
Select Hinges
| | Product | Unit Price | Attributes |
| --- | --- | --- | --- |
| | Residential Hinge (Black) 3" x 3" | $33.83 | |
Select Latches
| | Product | Unit Price | Attributes |
| --- | --- | --- | --- |
| | Residential Latch (Black) 3" x 3" | $19.98 | |
Select Additional Options & Accessories
Select Pickets
| | Product | Unit Price | Attributes |
| --- | --- | --- | --- |
| | White Picket 7/8" x 3" x 16' | $17.17 | |
| | Tan Picket 7/8" x 3" x 16' | $16.19 | |
| | Khaki Picket 7/8" x 3" x 16' | $18.27 | |
Select Rails
| | Product | Unit Price | Attributes |
| --- | --- | --- | --- |
| | 2" x 3-1/2" x 71-3/4" White Open Rail | $14.23 | |
| | 2" x 3-1/2" x 71-3/4" Tan Open Rail | $13.90 | |
| | Khaki Open Rail 2" x 3-1/2" x 71-3/4" | $13.64 | |
Select Latches
| | Product | Unit Price | Attributes |
| --- | --- | --- | --- |
| | Lokk Latch Pro Operational from Both Sides (Black) | $73.36 | |
| | Lokk Latch - One Side (Black) | $36.73 | |
Select Self-Closing Hinges
| | Product | Unit Price | Attributes |
| --- | --- | --- | --- |
| | 3 Way Adjustable Hinge | $69.92 | |
Select Drop Rods
| | Product | Unit Price | Attributes |
| --- | --- | --- | --- |
| | Residential Drop Rod (Black) 1/2" x 36" | $14.99 | |
Select Glue
| | Product | Unit Price | Attributes |
| --- | --- | --- | --- |
| | PVC Glue 1.5 oz | $5.98 | |
| | PVC Glue 8oz | $18.45 | |