4' Privacy AFC-001
A 4' vinyl privacy fence protects your yard from both stray animals and stray eyes.  Adding a measure of quality and security to your home, this style of vinyl fencing has consistently proven to be a top choice for homeowners nationwide.
Details
5" x 5" x 72" posts
5" x 5" external caps
2" x 6 1/2" x 92" slotted rails
1" x 8" x 33 1/2" tongue & groove pickets
We are here to help! Contact us with any questions.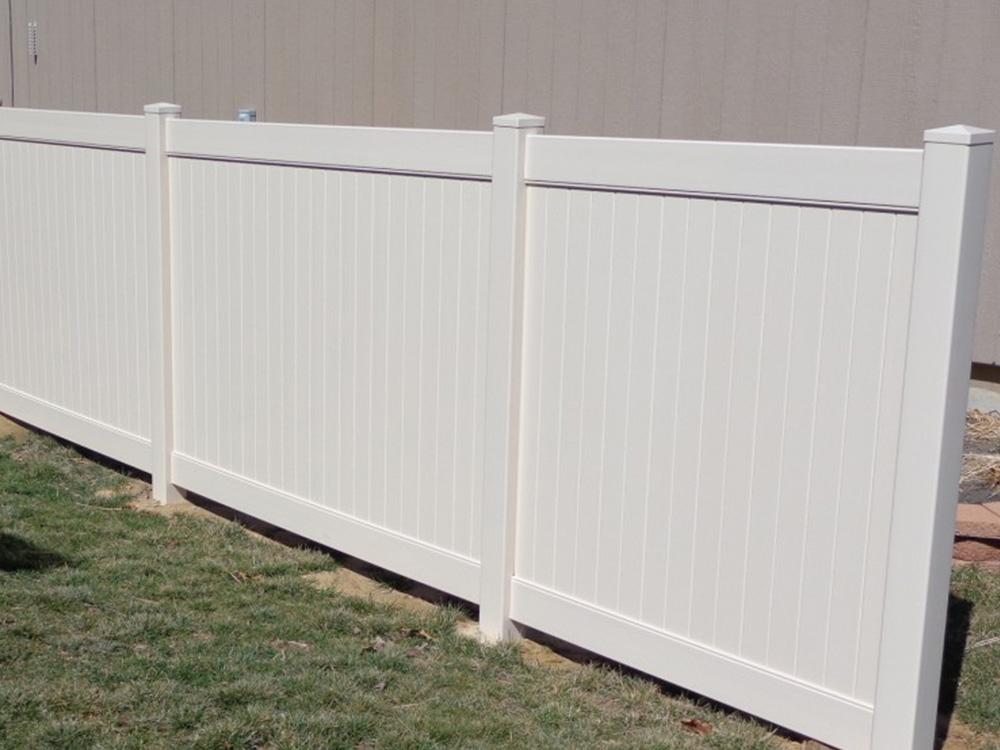 Select Posts
| | Product | Unit Price | Attributes |
| --- | --- | --- | --- |
| | White Line Post 5" x 5" x 6' | $20.67 | |
| | White End Post 5" x 5" x 6' | $17.93 | |
| | White 3 Way Post 5" x 5" x 6' | $23.41 | |
| | White Corner Post 5" x 5" x 6' | $20.67 | |
| | White Blank Post 5" x 5" x 6' | $22.81 | |
| | Tan Line Post 5" x 5" x 8' | $23.87 | |
| | Tan End Post 5" x 5" x 8' | $21.13 | |
| | Tan 3 Way Post 5" x 5" x 8' | $26.61 | |
| | Tan Corner Post 5" x 5" x 8' | $23.87 | |
| | Tan Blank Post 5" x 5" x 8' | $29.52 | |
| | Khaki Line Post 5" x 5" x 8' | $26.59 | |
| | Khaki End Post 5" x 5" x 8' | $22.59 | |
| | Khaki 3 Way Post 5" x 5" x 8' | $29.46 | |
| | Khaki Corner Post 5" x 5" x 8' | $26.59 | |
| | Khaki Blank Post 5" x 5" x 8' | $29.98 | |
Select Gates
| | Product | Unit Price | Attributes |
| --- | --- | --- | --- |
| | 4' X 4' White Single Swing Vinyl Gate | $1,322.50 | |
| | 8' x 4' White Double Drive Vinyl Gate | $2,526.58 | |
| | 4' x 4' Tan Single Swing Vinyl Gate | $1,228.50 | |
| | 8' x 4' Tan Double Drive Vinyl Gate | $2,455.08 | |
| | PVC Single Gate White 3' x 4' High | $916.88 | |
| | 5' X 4' White Single Swing Vinyl Gate | $1,528.13 | |
| | 6' X 4' White Single Swing Vinyl Gate | $1,833.75 | |
| | 3' x 4' Tan Single Swing Vinyl Gate | $835.25 | |
| | 5' x 4' Tan Single Swing Vinyl Gate | $1,392.13 | |
| | 6' x 4' Tan Single Swing Vinyl Gate | $1,670.58 | |
| | 6' x 4' White Double Drive Vinyl Gate | $1,717.70 | |
| | 10' x 4' White Double Drive Vinyl Gate | $2,862.83 | |
Select Caps
| | Product | Unit Price | Attributes |
| --- | --- | --- | --- |
| | 5" White External Cap | $1.22 | |
| | 5" White Gothic Cap | $5.80 | |
| | 5" White Ball Cap | $4.35 | |
| | 5" White Classic Cap | $3.87 | |
| | Tan External Cap 5" | $1.09 | |
| | Tan Gothic Cap 5" | $4.64 | |
| | Tan Classic Cap 5" | $3.58 | |
| | 5" Khaki External Cap | $1.40 | |
| | Khaki Classic Cap 5" | $3.74 | |
Select Hinges
| | Product | Unit Price | Attributes |
| --- | --- | --- | --- |
| | Residential Hinge (Black) 3" x 3" | $33.83 | |
Select Latches
| | Product | Unit Price | Attributes |
| --- | --- | --- | --- |
| | Residential Latch (Black) 3" x 3" | $19.98 | |
Select Additional Options & Accessories
Select Pickets
| | Product | Unit Price | Attributes |
| --- | --- | --- | --- |
| | Tongue & Groove Picket 1" x 8" x 16' White | $46.89 | |
| | Tan Tongue & Groove Picket 1" x 8" x 16' | $41.17 | |
| | Khaki Tongue & Groove Picket 1" x 8" x 16' | $51.10 | |
Select Rails
| | Product | Unit Price | Attributes |
| --- | --- | --- | --- |
| | White Slotted Rail 2" x 6-1/2" x 92" | $40.00 | |
| | Khaki Slotted Rail 2" x 6-1/2" x 92" | $47.95 | |
Select Latches
| | Product | Unit Price | Attributes |
| --- | --- | --- | --- |
| | Lokk Latch Pro Operational from Both Sides (Black) | $73.36 | |
| | Lokk Latch - One Side (Black) | $36.73 | |
Select Self-Closing Hinges
| | Product | Unit Price | Attributes |
| --- | --- | --- | --- |
| | 3 Way Adjustable Hinge | $69.92 | |
Select Drop Rods
| | Product | Unit Price | Attributes |
| --- | --- | --- | --- |
| | Residential Drop Rod (Black) 1/2" x 36" | $14.99 | |
Select Glue
| | Product | Unit Price | Attributes |
| --- | --- | --- | --- |
| | PVC Glue 1.5 oz | $5.98 | |
| | PVC Glue 8oz | $18.45 | |