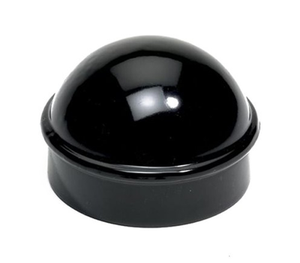 1-3/8" Black Aluminum Terminal Cap
The American Fence Company
SKU: 10103B
Regular price $1.54 Sale
---
Terminal caps cover the rough edges on end, corner, and gate posts, providing a polished look to your completed chain link fence. This cap will keep residual rain water out of your posts while also increasing safety and improving the overall look of your chain link fence.
Made of light-weight aluminum
Black color
Rust-resistant 
Rounded design offers increased safety
How the part fits? The cap slips over the top of the corner, gate, or end post to hide any sharp post edges and protect from water damage.
Where is it installed? The cap is installed on top of the exposed terminal post.
How many do you need? One cap is required for each terminal post.
Fits 1-3/8" outside diameter post. .11lb.
Place the cap over the exposed edge of the post. The cap should fit tightly around the rim of the post. You may use a rubber mallet to ensure the cap is secured firmly in place.