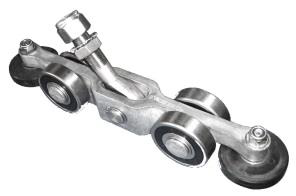 Internal Truck Assembly - Aluminum Slide Gate
Transmark
SKU: 103120
Regular price $112.11 Sale
---
Swivel type, zinc die coated steel, with 6 sealed lubricant ball bearing rollers, 2 inches (50 mm) in diameter by 9/16" (14 mm) in width, and 2 side rolling wheels to ensure truck alignment in track.
Mount trucks on post brackets using 7/8" (22 mm) diameter ball bolts with 5/8" (16 mm) or ½" shank
Truck should slide freely down track while not under a load. 
Once installed, gate should open freely without drag or resistance.
Truck assembly shall withstand same reaction load as track 2,000 # (907.2 kg.).