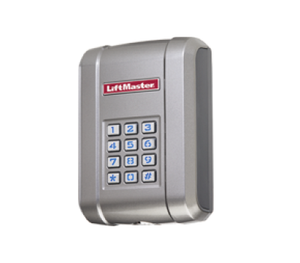 Wireless Commercial Keypad - Silver
Liftmaster
SKU: KPW250
Regular price $235.62 Sale
Qualities to look for when picking out a secure access device for your residential or commercial gate include: easy installation, an external cover that is resilient to vandalism as well as the weather, the option of programming numerous access codes, and extended battery life. This is the Wireless Commercial Keypad—a user friendly apparatus that helps protect your community by keeping gates closed to intruders.
This keypad allows you to program 250 permanent PINs and 10 unique temporary PINs, allowing extra flexibility to set up multiple users. It is resilient to vandalism and external interference thanks to encrypted tri-brand signals and a completely enclosed antenna. When you install this gate entry device outside your residential or commercial property, you can rest assured that not just anybody will be able to gain access.
What's more, this is an extremely durable keypad entry device, fashioned from a weatherproof exterior and fully sealed electronics that meet NEMA 3X Water-Protection Requirements. The keys are made of metal and backlit. In addition to vandalism, this apparatus can withstand most harsh weather conditions, such as rain and snow, and its 9V lithium batteries supply it with an extended lifespan.
All LiftMaster Openers, Operators, and Systems should be purchased through a Dealer and professionally installed.
Performance
Compatible with Security+ 2.0, Security+, as well as Linear Multi-Code 300 MHz
250 permanent PINs and 10 unique temporary PINs mean flexibility to set up multiple users for commercial settings; unique temporary PINs can be set for 1 to 9 uses
Allows for removal of a single PIN while maintaining full access for other users
Electronics are fully sealed and meet NEMA 4X water protection requirements
An industry-leading 5-year lithium battery improves performance in cold weather (based on 25 activations per day)
Safety and Security
Zinc-alloy metal front cover for tough environments
Blue backlit metal keypad makes it easy to use under low-light conditions
A fully enclosed internal antenna means better protection from both vandalism and the elements
Easily surface mounted or on a standard pedestal